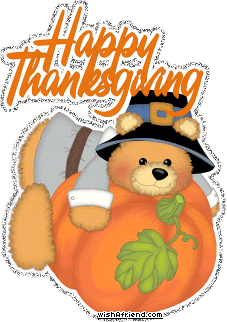 Myspace Graphics
,
Thanksgiving Graphics
at WishAFriend.com
Ten Things I am Thankful For!!
1. First and Foremost I am Thankful for Jesus who died on a cross so that I may have eternal life. John 3:16
3. My Kids
3. A Home to Live in
4. A Job
5. finding a church home
7. That I live in America, Even though it has alot of faults we still have alot of freedom
8. My extended family
9. that I am fairly healthy
10. For whoever taught me to read (I think it was a combination of my parents and my teacher). This one gift has given probably thousand of hours of enjoyment.
What are you Thankful for?