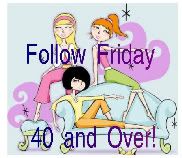 the Over 40 Blog Hop is hosted by Java at Never Grow Old click on the button to join in.
Boost my Blog Hop is Hosted by Design It Chick click on the button to Join in.
Welcome anyone who is dropping by.
Friday's is my Book Review Friday when I highlight some of the books that I have reviewed on my book blog
A Room without Books is Empty
This Past Week :
Review of the audio version of
Don't Blink by James Patterson and Howard Roughan
Review of
The Mackenzie Blue series by Tina Wells
First chapter Peak of
Highland Blessings by Jennifer Hudson Taylor
First Chapter Peak of
The God Hater by Bill Myers
Thanks for stopping by!!