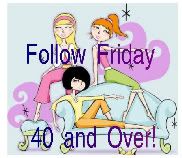 I found a new blog hop for blogger who are over 40. I do love reading about people and their families but I really wanted to connect with some bloggers who were closer to my age. I hope to do that this week.
Of Course I have to do New Friend Follow
I have found so many neat blogs through this weekly blog hop.
Just click on the buttons if you want to join in on the fun.